Bread & Roses Face Wash & Mask
01949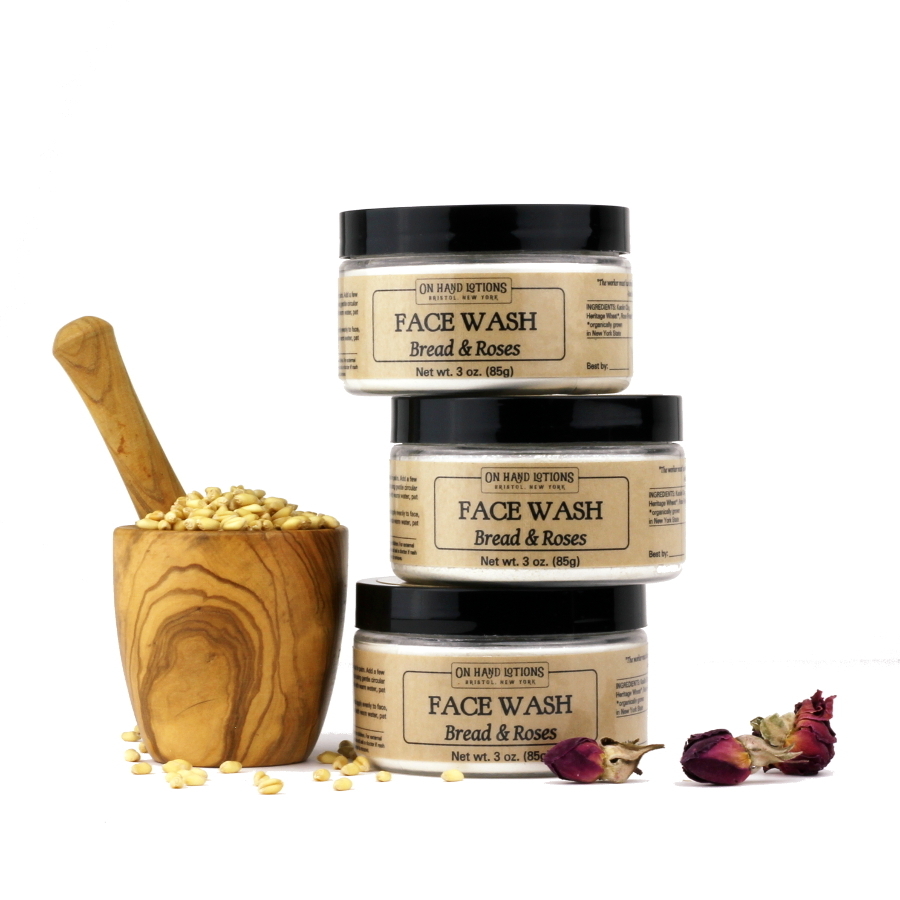 Face & Lips
"The worker must have bread, but she must have roses, too." -Rose Schneiderman
Sensitive skin face wash in an efficient powder? Yes.
Simple, natural, fresh ingredients? Yes.
Skincare that works and has an even greater goal of civil justice? Yes.
---
Bread & Roses Face Wash & Mask is one of our favorite blends for three reasons:
1. It works beautifully: we love the way it makes our faces feel. This unscented and easy-to-use powder offers gentle cleansing and light exfoliation for sensitive, dry, and combination skin types, something we've wanted to create but could never get quite right until now. Rosacea and fragrance-sensitive folks, this is for you!

2. Made with highest quality ingredients: freshly ground New York-grown organic wheat, rose petals from our gardens, and soft white clay. These are natural, locally sourced ingredients in perfected ratios.

3. We pay it forward: a portion of proceeds from every jar of Bread & Roses will be donated to the American Civil Liberties Union (ACLU), a nonpartisan, nonprofit organization whose stated mission is "to defend and preserve the individual rights and liberties that the Constitution and the laws of the United States guarantee everyone in this country."
---
IDEAL FOR: Sensitive or combination skin, dry skin. Vegan-friendly formula.
SCENT: Unscented
INGREDIENTS: Kaolin Clay, Certified Organic Wheat**, Rose Petals**
**Grown in New York State
---
DIRECTIONS FOR USE:
Cleansing: Place generous pinch of powder in palm. Add a few drops of water to make a paste. Apply to face using gentle circular motions, avoiding eye area. Rinse thoroughly with warm water, pat dry, and follow with moisturizing serum.
Gentle Mask: Prepare as for cleansing and apply evenly to face, avoiding eyes and mouth. Allow to dry. Rinse with warm water, pat dry, and follow with moisturizing serum.