Free US Shipping on Orders $100 or More!
Beard Balm (Original and Unscented)
00522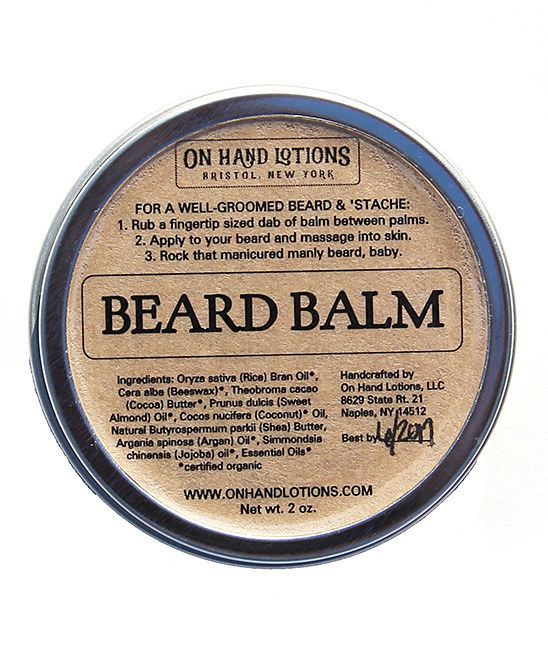 I know, I know. You have a beard, you're manly, and you don't want some fancy frou frou beauty thing all up in your face. On the other hand, you're a man of distinction and style and you don't really enjoy stabbing your loved ones (or yourself) with wiry unkempt beardage. Answer: Beard Balm.
Formulated with luxurious oils and enriched with fine waxes and butters to protect your pride & joy, Beard Balm's ingredients encourage facial hair health while offering light control.
Available in two scents:
ORIGINAL: The scent is subtle, fresh, and clean. This is not your funky hippie neighbor's patchouli.
UNSCENTED: This is for the patchouli haters. We know you're out there, we see you, and we hear you.
Beard Balm. All the cool (and well-bearded and well-mustached) dudes are doing it.
If you're looking for Glitter Beard, you'll find it here.
---
FOR A WELL-GROOMED BEARD & 'STACHE:

1. Rub a fingertip sized dab of balm between palms.
2. Apply to your beard and massage into skin. For best results, apply to freshly-washed face.
3. Rock that manicured manly beard.
Scent: fresh, clean, subtle. Hint of rosemary and a subtle dab of patchouli.
Ingredients: Oryza sativa (Rice) Bran Oil*, Cera alba (Beeswax)*, Theobroma cacao (Cocoa) Butter*, Prunus dulcis (Sweet Almond) Oil*, Cocos nucifera (Coconut)* Oil, Natural Butyrospermum parkii (Shea) Butter, Argania spinosa (Argan) Oil*, Simmondsia chinensis (Jojoba) oil*, Essential Oils*
*certified organic
Scent
Original (0) Unscented (0)