Free US Shipping on Orders $100 or More!
Body Scrubs - Choose Scent!
01975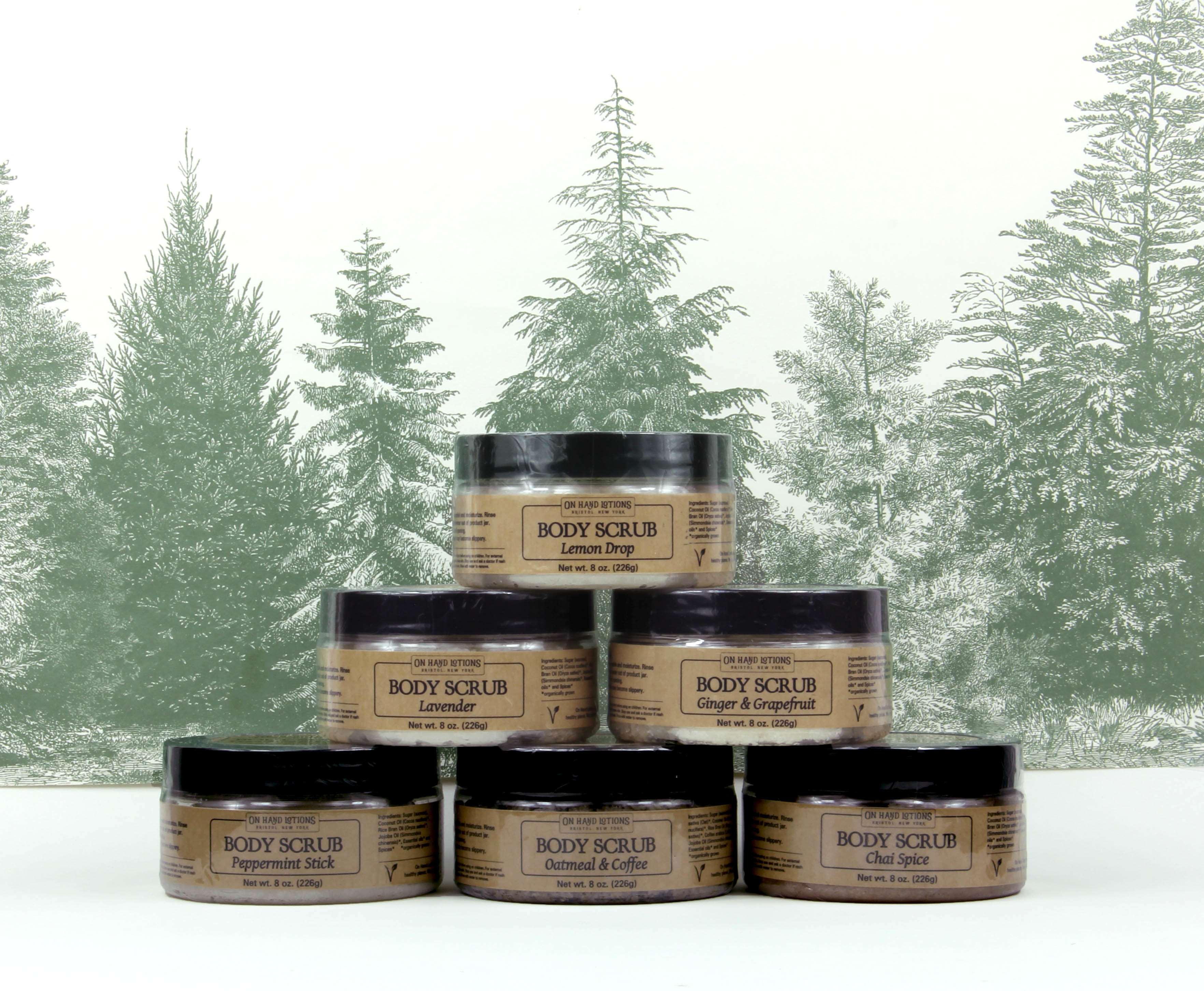 We blend pure essential oils, spices, and other botanicals into our exfoliating, moisturizing base of sugar and food-grade organic oils.
What it does: Organic sugar polishes your skin as our blend of oils moisturizes and cleanses. You skin will feel fresh, smooth, and ready for the day without additional moisturizers.
How to use: Rub onto damp skin to polish and moisturize, focusing on rough spots like hands, elbows, knees, and feet. Rinse with warm water. Keep out of eyes. For external use only.
---
CHAI SPICE: Cinnamon, toasted cardamom, sugared ginger, and just enough black pepper to cut the sweetness. Pairs with any of our lotion scents but is wonderful with Four Spices Lotion Bars and Cinnamon Cocoa Lip Balm.
GINGER & GRAPEFRUIT: Bright sweet-tart pink grapefruit warmed with deep ginger. Pairs beautifully with Lemongrass Lotion Bars and Lemon Tart Lip Balm.
LAVENDER: True classic lavender. Calming, relaxing. Pairs especially well with Grapefruit & Geranium Lotion Bars and Vegan Mint Lip Balm.
LEMON DROP: Brilliant punchy citron and lemon laced with a hint of lime. Excellent with Lemongrass or Lavender Lotion Bars and Vegan Mint or Lemon Tart Lip Balms.
OATMEAL & COFFEE: Features ground organic oats and coffee, sweetened with a hint of vanilla. We like it with Cocoa Lotion Bars and White Chocolate Lip Balm for a sweet treat.
PEPPERMINT STICK: Sweet bright peppermint tempered by warm vanilla. Comforting, familiar, fresh. Coordinates well with Vegan Mint and Lemon Tart Lip Balms, and Lavender, Lemongrass, and Lemon Tart Lotion Bars.

VETIVER & GERANIUM: Heady, woodsy, relaxing vetiver and fresh green-floral geranium. Goes well with Patchouli & Cedar or Lemongrass Lotion Bars and any of the Lip Balms.
All scrubs are vegan and made with: sugar, coconut oil*, rice bran oil*, jojoba oil*, essential oils* and/or spices*. Oatmeal & Coffee scrub contains coffee* and oats*.
*organically grown
Scent
Chai Spice (0) Ginger & Grapefruit (0) Lavender (0) Lemon Drop (0) Oatmeal & Coffee (0) Peppermint Stick (0) Vetiver & Geranium (0)