Free US Shipping on Orders $100 or More!
Bright Star Glitter Lotion Bar
00231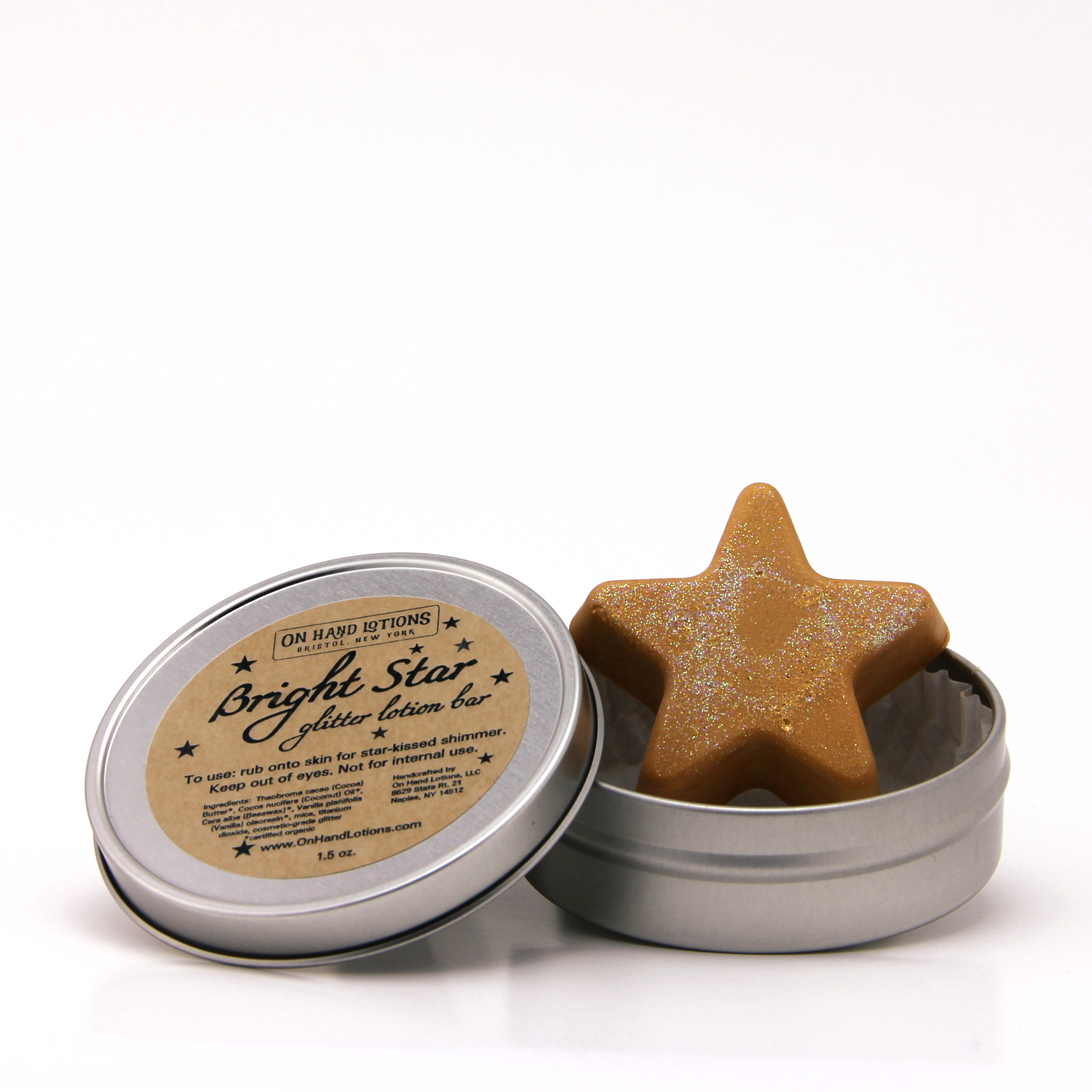 Customer favorite for Easter baskets!

Wish upon a glittery lotion bar star! This solid vanilla body glitter lotion is perfect for kids, tweens, teens, bridal parties, stylists, anyone who likes a little sparkle. The handcrafted organic lotion is mild and has a decadent chocolate scent thanks to organic vanilla essential oil. Mica, titanium dioxide, and skin-safe, extra-fine, cosmetic-grade glitter are embedded throughout the bar, not just sprinkled on top, so you'll have plenty of lasting sparkle. The tin makes glitter-on-the-go easy and convenient.
I chose the name "Bright Star" to honor all of the wonderful people in my life who shine so brightly, lighting the way for others and bringing joy and fresh hope everywhere they go. Who are your bright stars?
---
To use, simply rub the bar on your skin. The warmth of your skin will soften the lotion bar just a bit, and your skin will gain a thin application of rich creamy lotion with a satisfying sparkle. No water needed - this is the most efficient lotion form! Perfect fix for rough spots, cracked hands and feet, and parched skin anywhere. Gentle enough to use on your lips and face, too.
---
Ingredients: organic cocoa butter, organic coconut oil, organic beeswax, organic vanilla essential oil, vitamin e, mica, titanium dioxide, extra-fine cosmetic-grade glitter.
Lotion bar measures 2 ounces by volume. Like all On Hand Lotions products, Bright Star is free of synthetic fragrances, flavorings, dyes, and preservatives.