Free US Shipping on Orders $100 or More!
Bugscreen Repellent Spray
00631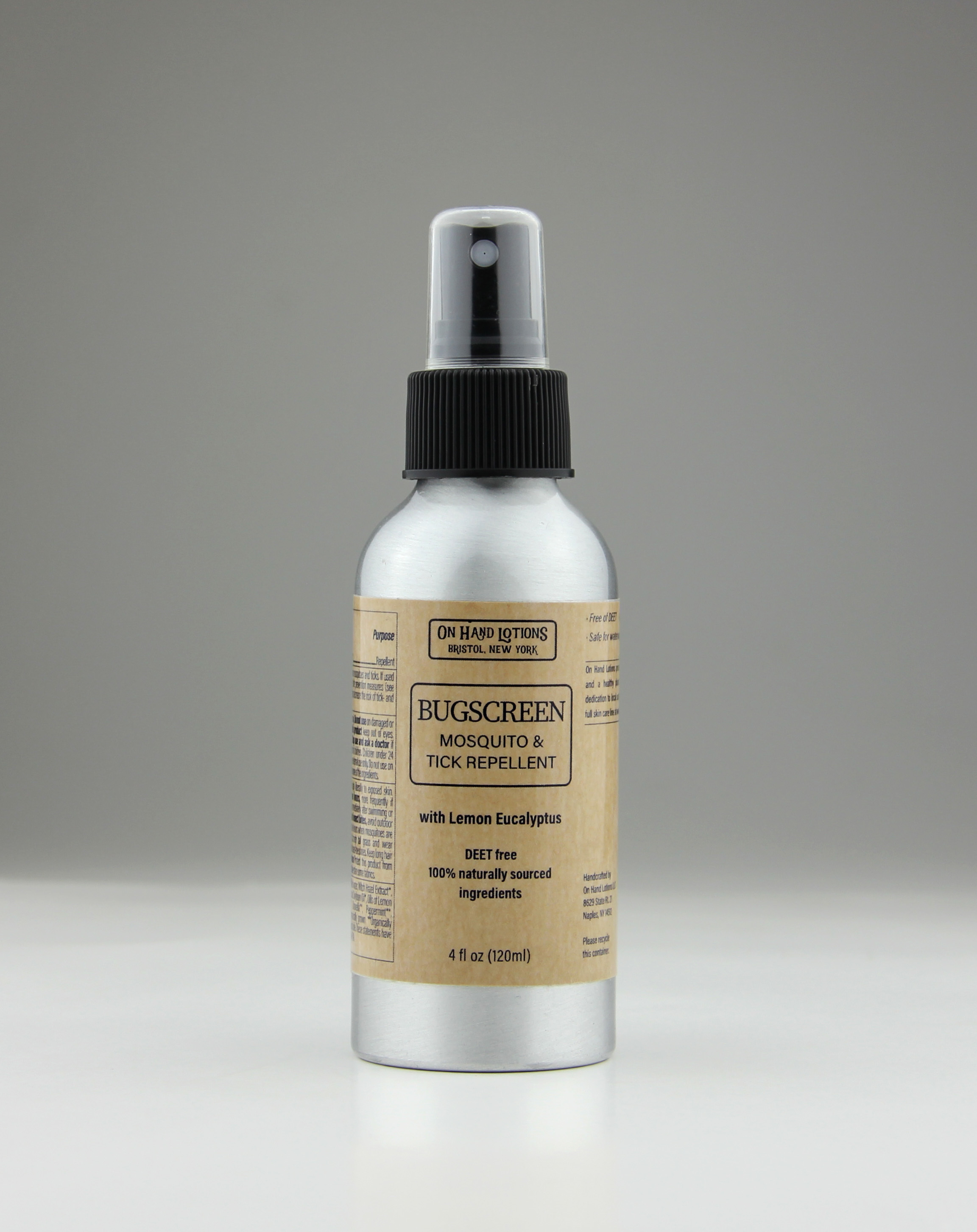 All-natural bug spray/bug repellent made with organic ingredients. Safe, effective, herbal-lemon scent. Protection from mosquitoes and gnats. BUGSCREEN is powered by organic essential oils, organic apple cider vinegar that I brewed to 5% acidity using organic apples from my family's land, and double-distilled witch hazel.
No soy, wheat, DEET, sulfates, parabens, phthalates, synthetic fragrances or dyes/colorants, nor emulsifiers. Shake well before use.
IMPORTANT: Age recommendations: I would not use this dilution nor anything highly fragrant/scented on any newborn, or on an infant with breathing challenges. Be sure to spray onto your palm and then pat onto your baby or toddler's skin to prevent aspiration.
---
This listing is for four ounces of BUGSCREEN natural repellent in a metal bottle with a BPA-free plastic atomizer top. The brushed metal bottle and atomizer/spray top are reusable and recyclable.
---
PETS: Please consult a holistic veterinarian before using on your pets. Dogs typically do well with this blend; cats can be much more sensitive to essential oils.
---
According to mosquitoes, I was always the delicious one in my family. And on my sports teams. And in my mothers' group. Yeah. The only way I could get some itch-free time outside was to drench myself in stinky DEET bug spray. Conventional sprays contain some really awful stuff and the odor and fumes gave me a headache, but I never knew there was another option. After lots of experimentation and camping-in-the-woods testing, I've found a blend that works for me! My kids and family and friends love this stuff and have tested it on hikes, at outdoor concerts, and while chasing fireflies late into the night.
Idea: put a bottle of BUGSCREEN on each table at outdoor weddings and events. Your guests will thank you!