Free US Shipping on Orders $100 or More!
Camper's Favorite: Jewelweed Soap
01974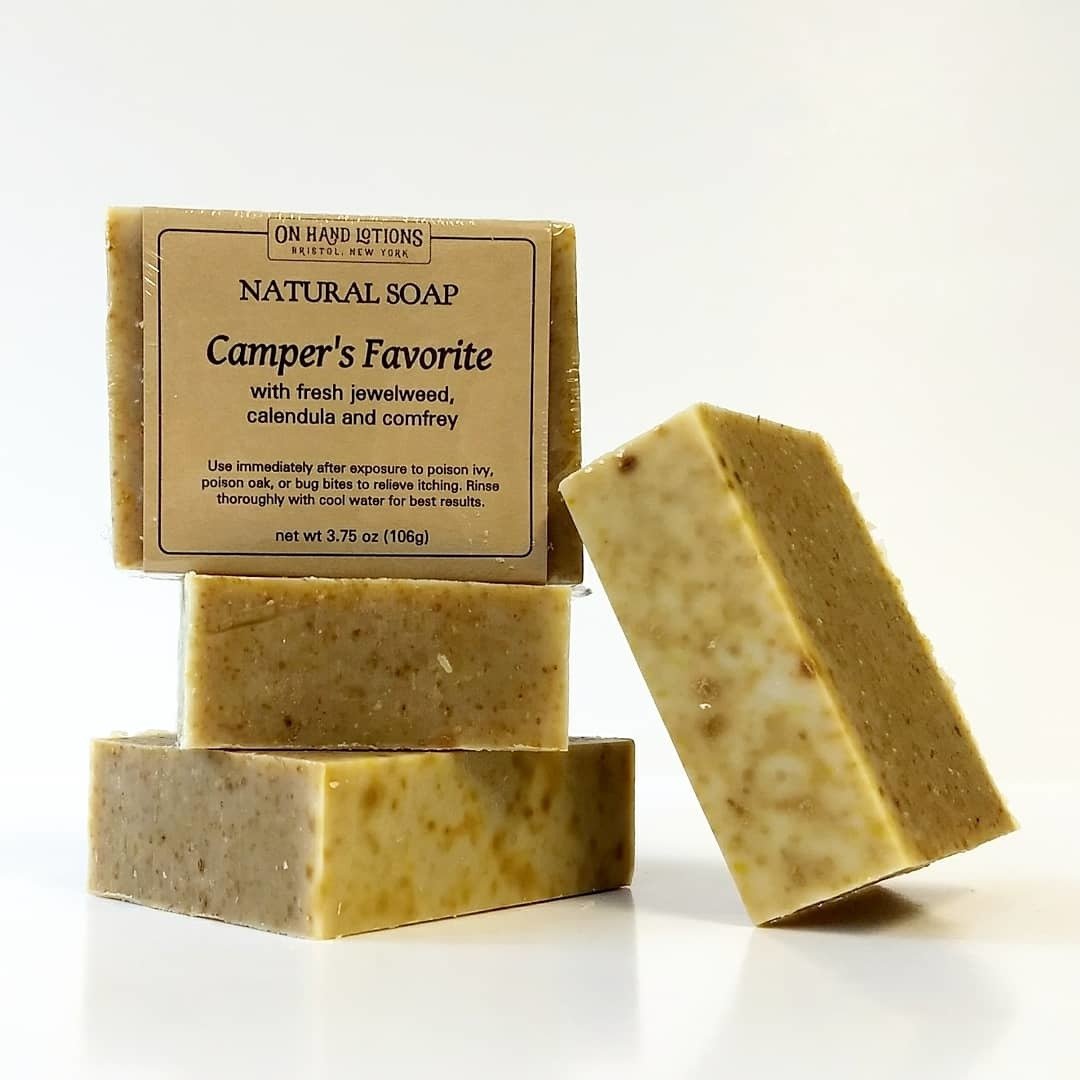 Meet Camper's Favorite Soap, a vegan bar made with fresh jewelweed to fight the effects of poison ivy! Also contains calendula, comfrey, and lavender, all grown in New York State.

Jewelweed: The juices of jewelweed help counteract the effects of urushiol, the compound in poison ivy that causes itching. This jewelweed is wildcrafted, unsprayed, and harvested by hand, and the whole plant puree is included in the soap. Fun fact: jewelweed is also known as Touch-Me-Not for its ripened seed pods that burst upon contact in late summer and early fall.
Comfrey: Reduces redness and irritation.
Calendula: Soothing and calming, a favorite for sensitive or irritated skin.
Lavender: Helps reduce the sensation of stinging and itching. Soft scent encourages relaxation.
Ingredients: Saponified Oils of Olive, Coconut, and Rice Bran, Water, Shea Butter, Fresh Jewlweed, Comfrey, Calendula, Jojoba Oil, Lavender.
Wash immediately after exposure to poison ivy, poison oak, or insect bites. Rinse thoroughly with cool water and pat dry for best results. Repeat as needed.

All of our 100% natural bar soaps are free of palm oil, handmade in small batches with lots of shea butter, and scented with pure essential oils, extracts, spices, flowers, vegetables, and fruits. Gentle enough for faces, cleansing enough for hardworking hands. No detergents, SLS, SLES, triclosan, parabens, pthalates, synthetic fragrances, or dyes. Packaging is 100% biodegradable including outer film wrapping.
Add a soap loofah bag: simple, straightforward, maximum suds. Made from recycled bottles, this hanging soap bag prolongs the life of your bar by allowing it to hang dry completely between uses.
Net weight 3.75 oz (107g). Please note that our cold process soap will become harder and milder with age, and is also safe and gentle to use now. For a longer lasting bar, store on a draining soap dish or hang in a mesh soap loofah out of the shower's direct spray.
Packaged in 100% biodegradable olefin film that returns to biomass within 6-8 months.

Add a Soap Loofah Bag?
Yes, please! (4) No thanks! (0)