Free US Shipping on Orders $100 or More!
Day and Night Aromatherapy Roller Gift Set
01943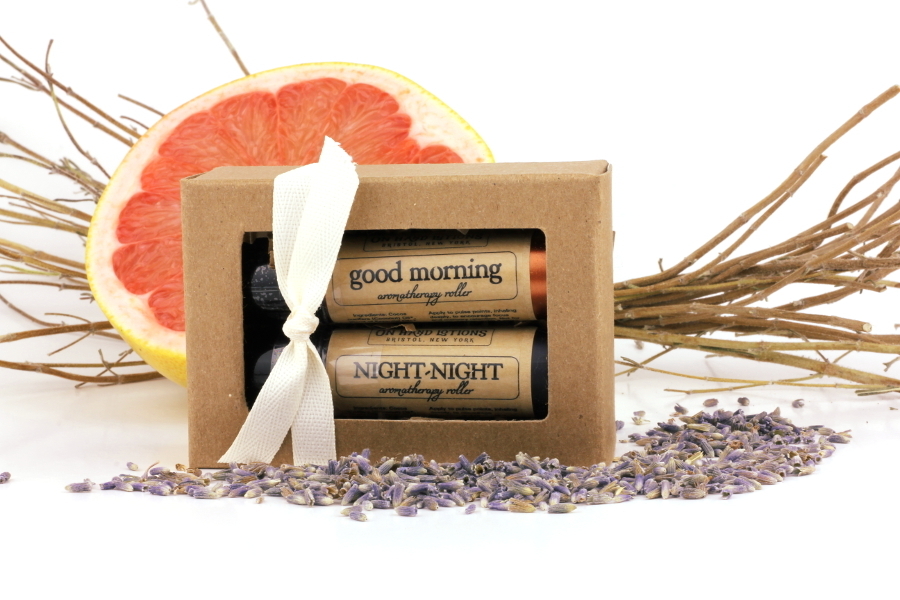 Aromatherapy organic essential oil roller bottles: these portable and gift ready blends roll on easily and are great for travel. Also works well as a natural perfume. Set includes two rollers.
Our new aromatherapy set helps with both ends of the day and makes for a thoughtful, unique gift. Your set arrives boxed and ready for gifting, tied with a cotton twill ribbon. Fun stocking stuffer and gift for a new parent/new mom!
What's in the set?
Good Morning Roller: Wake up and improve focus with uplifting pink grapefruit, clean rosemary, and clary sage essential oils blended in fractionated (non-solidifying) coconut oil base. Kid-safe. We also like this as a fresh natural perfume. This bright blend travels well in a 10mL bronze glass roller bottle with a roller ball. Ingredients:

fractionated coconut oil*, essential oils* *

certified organic
Night-Night Roller: Soothing, calming organic lavender and German chamomile essential oils are blended with organic vanilla oleoresin in a fractionated (non-solidifying) coconut oil base for a soft, gentle scent that enhances relaxation naturally. Baby-safe. We also like this as a lovely, soft, natural perfume. This dreamy blend travels well in a 10mL blue glass roller bottle with a roller ball. Ingredients:

fractionated coconut oil*, lavender and German chamomile essential oils*, vanilla oleoresin*

*certified organic