Free US Shipping on Orders $100 or More!
Fall/Winter '18 Soap & Shampoo Bars: Basil & Citrus, Lemon Tart, Pumpkin Chocolate Chip, Sweet Mint
01970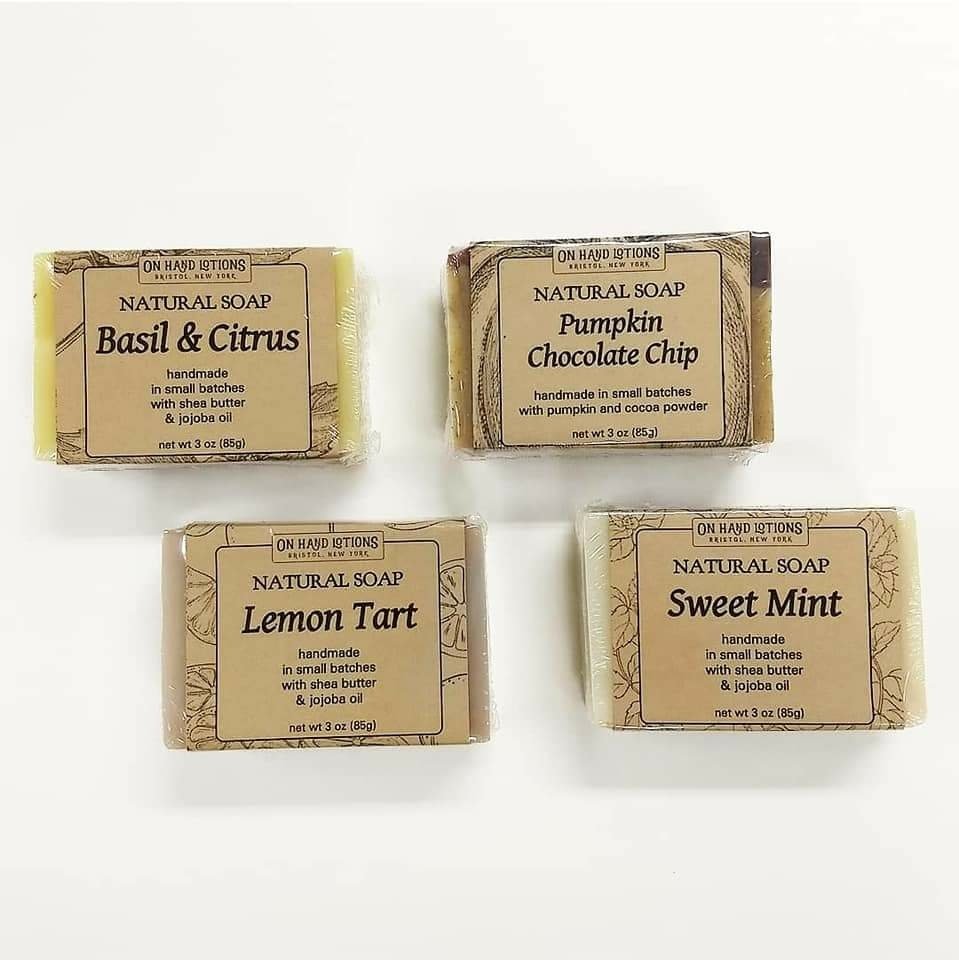 FALL/WINTER 2018 VEGAN SOAPS!
Just in time to celebrate fall!
Basil & Citrus: Clean green basil with sweet orange and anisette notes, blended together in a sunny yellow layered bar. Makes a wonderful kitchen hand soap, body wash, and shampoo bar for normal to oily hair.
Lemon Tart: Light lemon zest and sweet natural vanilla, like lemon meringue pie. Medium tan bar with subtle swirls. Soft scent pairs perfectly with our lemon tart lotion bars and lip balms. Mild body wash and shampoo bar.
Pumpkin Chocolate Chip: Fresh pumpkin and warm spices layered with dark cocoa in a beautiful two-tone, spice-speckled bar. Soft pumpkin scent with delicate chocolate notes. Excellent gentle body wash. If using as shampoo bar, best suited to dry to normal hair.
Sweet Mint: A cool blend of spearmint and peppermint, this clean-smelling soap is fresh and herbal and a fun upgrade to the standard candy cane fragrance. Light tan bar with subtle swirls. Great body wash and clarifying shampoo bar.
Ingredients: Saponified Oils of Olive, Coconut, and Rice Bran, Water, Shea Butter, Jojoba Oil. May contain essential oils, fresh vegetable purees, and/or spices.
All of our 100% natural bar soaps are free of palm oil, handmade in small batches with lots of shea butter, and scented with pure essential oils, extracts, spices, flowers, vegetables, and fruits. Gentle enough for faces, cleansing enough for hardworking hands. No detergents, SLS, SLES, triclosan, parabens, pthalates, synthetic fragrances, or dyes. Packaging is 100% biodegradable including outer film wrapping.
Also available bare: no wrapping, no label, just the soap.
Add a soap loofah bag: simple, straightforward, maximum suds. Made from recycled bottles, this hanging soap bag prolongs the life of your bar by allowing it to hang dry completely between uses.
To use as shampoo bars: wet hair. Either rub the bar directly on your hair from roots to ends, or create lather in your hands and apply to hair. Work lather through hair and roots, rinse. Follow with a diluted vinegar rinse to restore your hair's pH: approximately 1 tablespoon apple cider vinegar to 1 cup water. For longer hair that tangles easily, use up to 4 tablespoons apple cider vinegar to 1 cup water.

Net weight 3 oz (85g). Please note that our cold process soap will become harder and milder with age, and is also safe and gentle to use now. For a longer lasting bar, store on a draining soap dish or hang in a mesh soap keeper out of the shower's direct spray.
Pairs beautifully with a solid lotion bar and body scrub for a thoughtful custom gift.
Packaged in 100% biodegradable olefin film that returns to biomass within 6-8 months.

Scent
Basil & Citrus (0) Lemon Tart (0) Pumpkin Chocolate Chip (0) Sweet Mint (0)
Wrapped or Bare
Wrapped and Labeled (0) Bare (no wrapping at all) (-1)
Add a Soap Loofah Bag?
Yes, please! (4) No thanks! (0)