Free US Shipping on Orders $100 or More!
Flower City Lilac Body Scrub
01981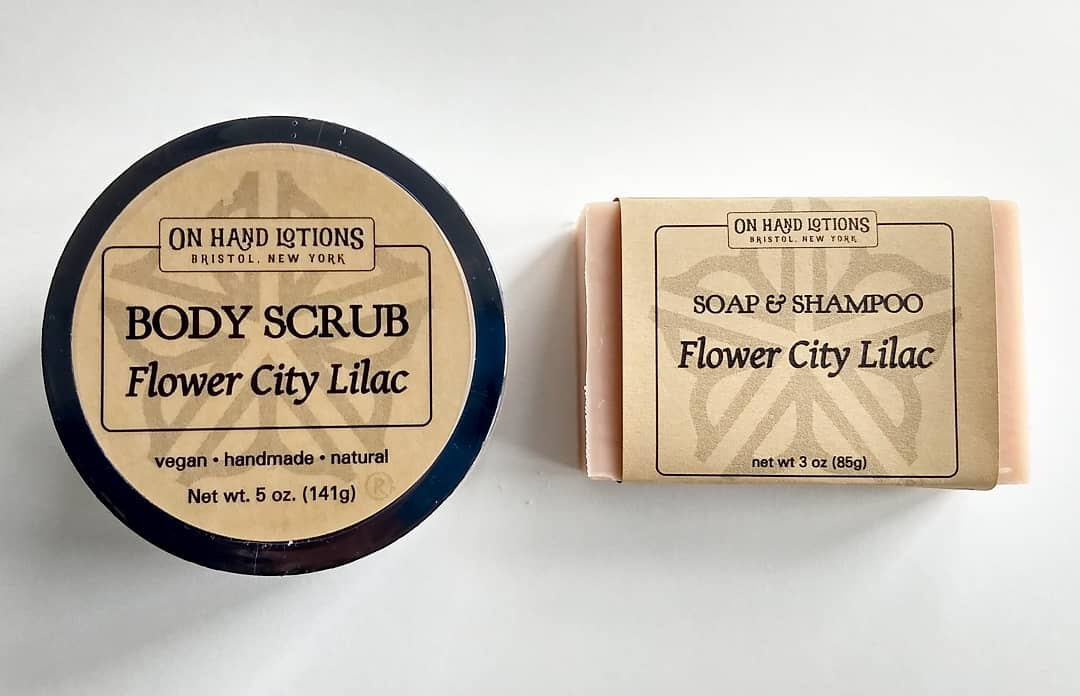 NEW! Flower City Lilac: this scent is richly floral, and completely natural! Virtually all lilac-scented body care items use synthetic fragrances. This unmistakable lilac scent is created in-house using the intense scent extraction method known as enfleurage. Imagine armloads of lilac blossoms layered carefully with solid oils, repeated many times, and finally distilled into a glorious sweet lilac elixir with notes of jasmine and lily of the valley. This process takes many months and is a true labor of love! When combined with other floral extracts and oils, it creates a beautiful and potent true lilac scent, naturally.
Available in 5 oz premium body scrub, and soap and shampoo bars.
About the name: Rochester, New York is known as both the Flour City and the Flower City, honoring its original status as a milling town on the Erie Canal and current horticultural and botanical excellence. Every spring, Rochester's Highland Park bursts into bloom and celebrates its gardens with the Lilac Festival. OHL is proud to name our newest scent in honor of this beloved tradition. Logo used with permission of the City of Rochester.
What it does: Our blend of oils moisturizes and cleanses, leaving your skin fresh, smooth, and ready for the day (or night) without additional moisturizers.
How to use: Rub onto damp skin to polish and moisturize, focusing on rough spots like hands, elbows, knees, and feet. Rinse with warm water. Keep out of eyes. For external use only.
Please use caution when using sugar scrub in the shower, especially with children, as it may cause the floor to become a bit slippery.
---
Ingredients: Sucrose (sugar)*, Cocos nucifera (Coconut) Oil*, Oryza sativa (Rice Bran) Oil*, Simmondsia chinensis (Jojoba) Oil*, Plant extracts and essential oils*
*organically grown
5 oz. premium body scrub
Add a bar of Flower City Lilac Soap & Shampoo to make it a gift set, and add an OHL original botanical greeting card and gift packaging so it's ready for giving.

Make it a Flower City Lilac Gift Set
Add Flower City Lilac Soap, wrapped (8) No thank you! (0)
Add an OHL original botanical greeting card and gift packaging?
Yes, please! (6) No thank you. (0)