Free US Shipping on Orders $100 or More!
Gift Cards
01965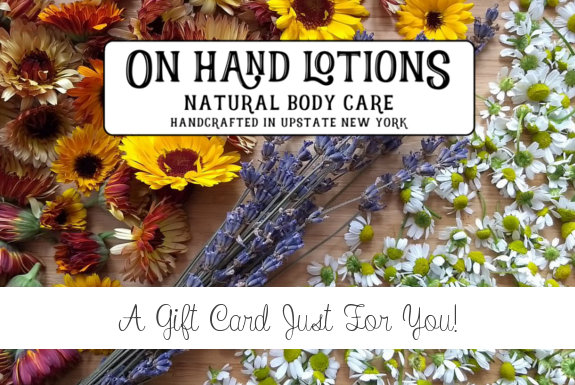 Whoa, $1,000? That's a lot of OHL product!
Don't worry, gift cards are available in any denomination of US$20 or more. That big ol' number is there to prevent folks from adding this item to their carts. You see, online gift card checkout is handled separately from other purchases. Please go here to purchase gift cards, and then come back to the store to place orders for On Hand Lotions items to be shipped.
Our gift certificates are sent electronically to your recipient–please double check their email address before purchasing! Please note that online gift cards are valid only at www.OnHandLotions.com and may not be redeemed at On Hand Lotions retail booths, workshop pickups, or third party retailers or storefronts. No sales tax is charged when purchasing gift cards; however, purchases paid for with gift cards may be subject to tax and shipping. Gift cards never expire and may be used more than once, until the balance is depleted.