Body Scrubs: 5 oz
01959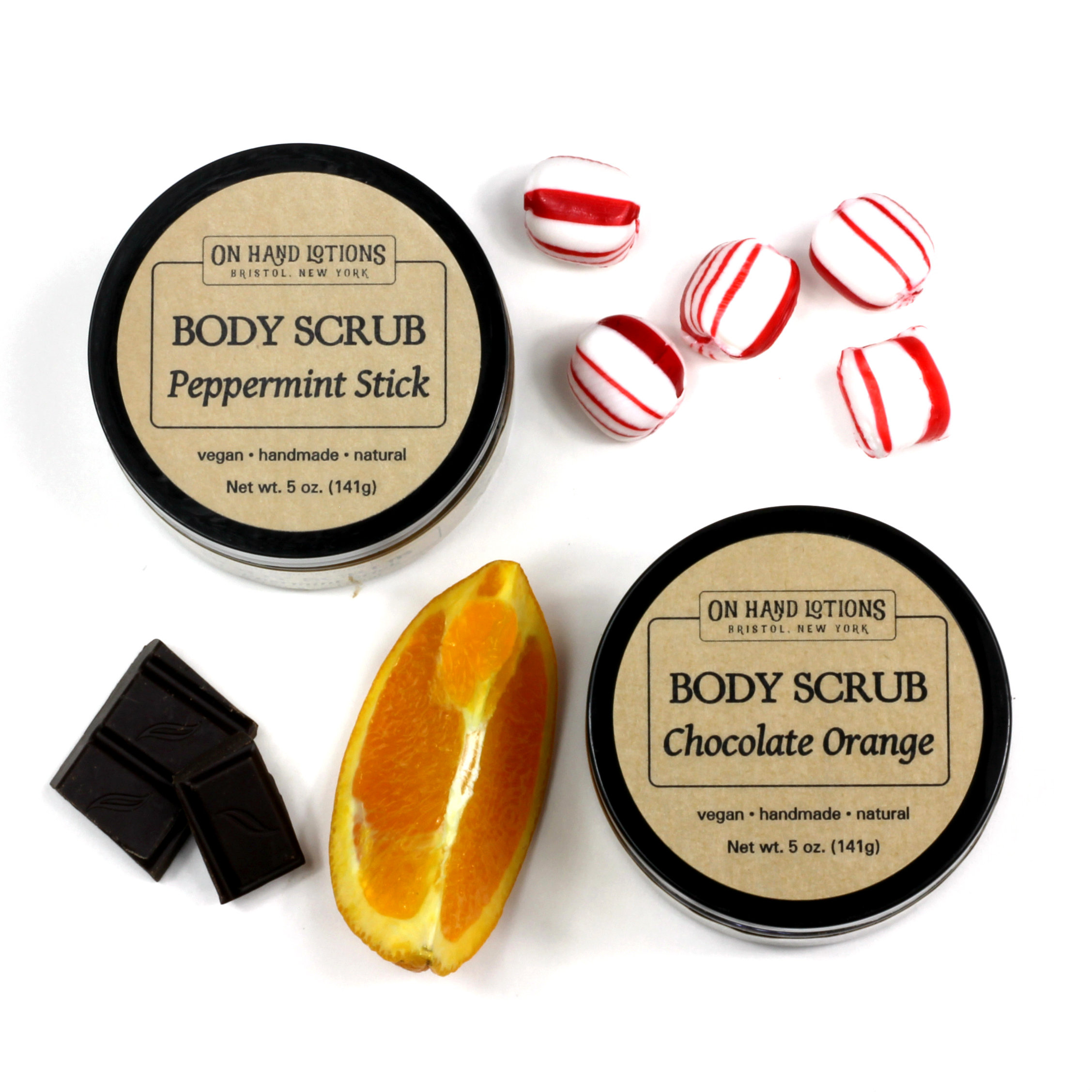 Introducing Chocolate Orange and Peppermint Stick Sugar Scrubs!
The scents: These are classic flavors! Organic dark cocoa powder and sweet orange oil with a hint of vanilla round out Chocolate Orange. Peppermint Stick has a bright clean peppermint and warm vanilla aroma that is at once nostalgic and invigorating.
What it does: Our blend of oils moisturizes and cleanses, leaving your skin fresh, smooth, and ready for the day (or night) without additional moisturizers.
How to use: Rub onto damp skin to polish and moisturize, focusing on rough spots like hands, elbows, knees, and feet. Rinse with warm water. Keep out of eyes. For external use only.
Please use caution when using sugar scrub in the shower, especially with children, as it may cause the floor to become a bit slippery.
---
Ingredients: Sucrose (sugar)*, Cocos nucifera (Coconut) Oil*, Oryza sativa (Rice Bran) Oil*, Theobroma Cacao (Cocoa Powder)*, Simmondsia chinensis (Jojoba) Oil*, Sweet Orange and Vanilla and/or Benzoin Oils*
Ingredients: Sucrose (sugar)*, Cocos nucifera (Coconut) Oil*, Oryza sativa (Rice Bran) Oil*, Simmondsia chinensis (Jojoba) Oil*, Peppermint and Vanilla and/or Benzoin Oils*
*organically grown
Choose Scrub
Chocolate Orange (0) Peppermint Stick (0)