Free US Shipping on Orders $100 or More!
"Just Deodorant" Vegan Deodorant Stick
00801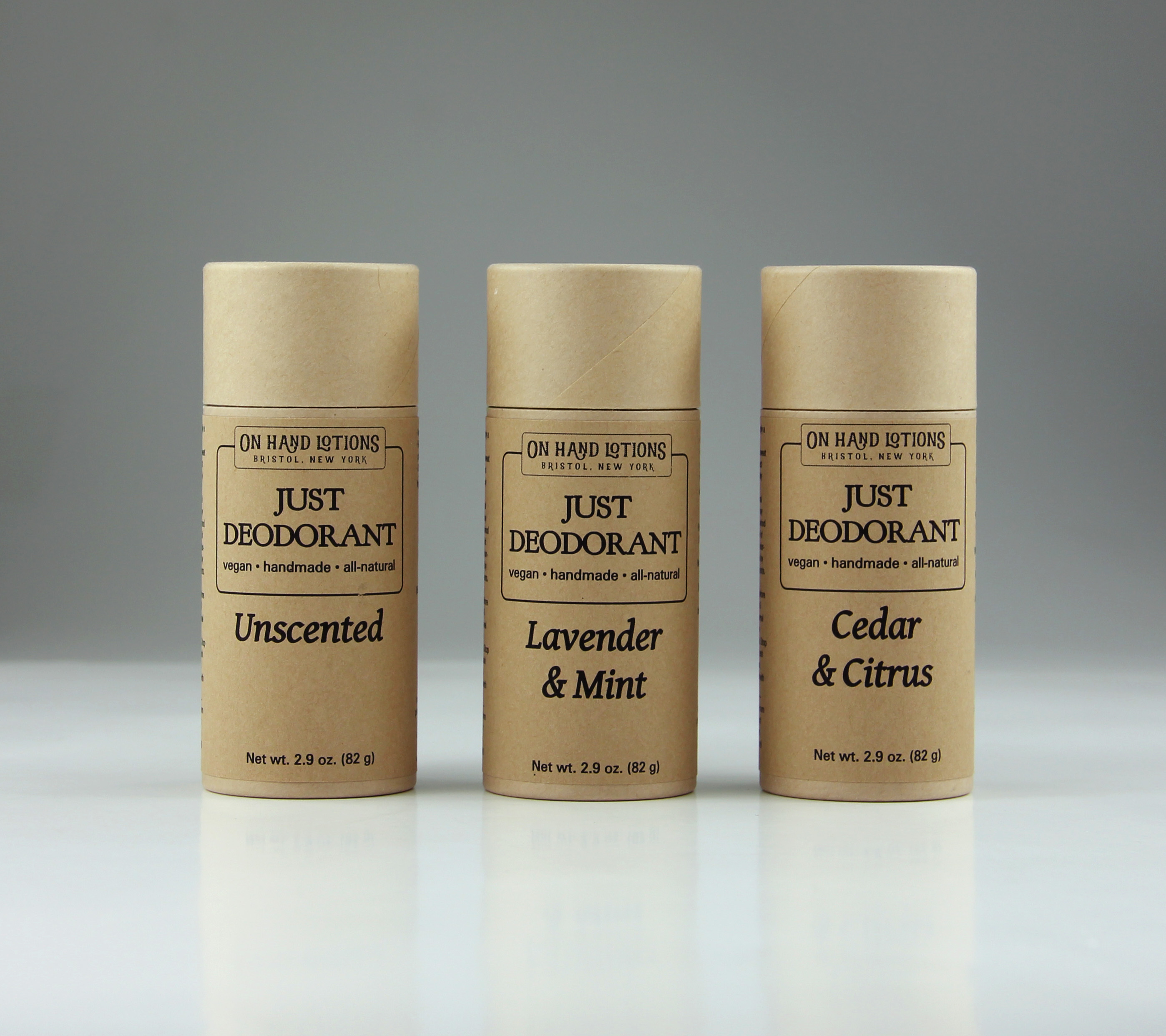 NEW 12/2018 all scents now available in super eco-friendly, plastic-free paperboard push-up tubes! The tubes, labels, and even the protective outer wrapper are completely compostable.
Fight B.O. naturally with our new vegan deodorant formula! While it's natural and healthy to sweat, pit stink is hardly a good thing. At the same time, there are some ingredients in conventional deodorants that we don't like. Just Deodorant absorbs perspiration and reduces funk without all the junk.

Why natural?
Our bodies rely on the ability to sweat to regulate temperature, flush out waste, and maintain healthy skin. Conventional antiperspirants and deodorants rely on aluminum-based compounds that plug the sweat glands, resulting in a buildup of concentrated bacteria and sweat. This built-up bacteria is the primary cause of strong offensive body odor. Some believe aluminum contributes to Alzheimer's. Of lesser concern but still an annoyance, when the aluminum compounds bond with your sweat they form a substance that causes those persistent yellow pit sweat stains on your favorite shirts.
What makes OHL Just Deodorant different?
Some of the primary complaints about other natural deodorants are irritation from too much baking soda, yeast rashes from cornstarch, lack of odor control, and reactions to incorrect dilutions of essential oils and herbs. We created a base of natural clays, organic vegetable oils, powders, and herbs with all of these concerns in mind.
We tested, tweaked, tested again... rinse and repeat. Our deodorant has been tested by many people who have tried several natural brands, plus several folks who have always used conventional antiperspirants. After allowing a 2-3 week period for their bodies to release the built-up bacteria and sweat, all testers reported significantly reduced or no body odor, comfortable sweat management, and zero negative reactions.
What's in it?
Bentonite and Kaolin Clays: absorb perspiration
Coconut Oil: antibacterial, skin conditioning
Arrowroot Powder: absorbs perspiration

Baking Soda: neutralizes sweat pH creating a hostile environment for bacteria
Cocoa Butter: soothing, skin conditioning
Jojoba Oil: anti-inflammatory, skin conditioning
Candelilla Wax: vegetable wax that adds hardness and slip (glide)

Essential Oils or Herbal Infusions: offers gentle natural scent
---
Scent Profiles:
UNSCENTED: Just as it sounds. You'll notice an incredibly light natural scent from the cocoa butter and coconut oil, but that's it.
LAVENDER & MINT: Fresh, herbal, light. Light lavender and crisp mint make for a clean herbal blend.
CEDAR & CITRUS: Woodsy, a little musky, clean. Warm wood tones brightened by light citrus notes.
---
From the Label:
DIRECTIONS: Apply gently to clean, dry armpits to help absorb sweat and reduce odor. For best results, apply immediately after showering.

• If you are new to natural deodorant, your body may require an adjustment period of 2-3 weeks to rid itself of the built-up sweat and odor-causing bacteria caused by conventional antiperspirants.
• Keep out of reach of children. Ask a doctor before using on children under 6 months of age. For external use only. Do not use on damaged or broken skin. Stop use and ask a doctor if rash or other irritation occurs. Keep out of eyes. Rinse with cool water to remove.
Ingredients: Cocos nucifera (Coconut) Oil*, Maranta arundinacea (Arrowroot) Powder*, Theobroma cacao (Cocoa) Butter*, Euphorbia Antisyphillitica (Candelilla) Wax*, Kaolin Clay, Bentonite Clay, Sodium Bicarbonate (Baking Soda), Simmondsia chinensis (Jojoba) Oil*, proprietary blend of herbs and essential oils*
*organically grown
---
As always, this product is free of synthetic fragrances, flavorings, dyes/colorants, phthalates, parabens, and preservatives. Just Deodorant is also a vegan product. Twist up tubes are recyclable, and paperboard push up tubes are compostable.
Scent
Lavender & Mint PAPERBOARD STICK (0) Cedar & Citrus PAPERBOARD STICK (0) Unscented PAPERBOARD STICK (0) Cedar & Citrus Twist Up Stick (0) Unscented Twist Up Stick (0)