Free US Shipping on Orders $100 or More!
Mix & Match: Lotions & Lips Gift Set
00019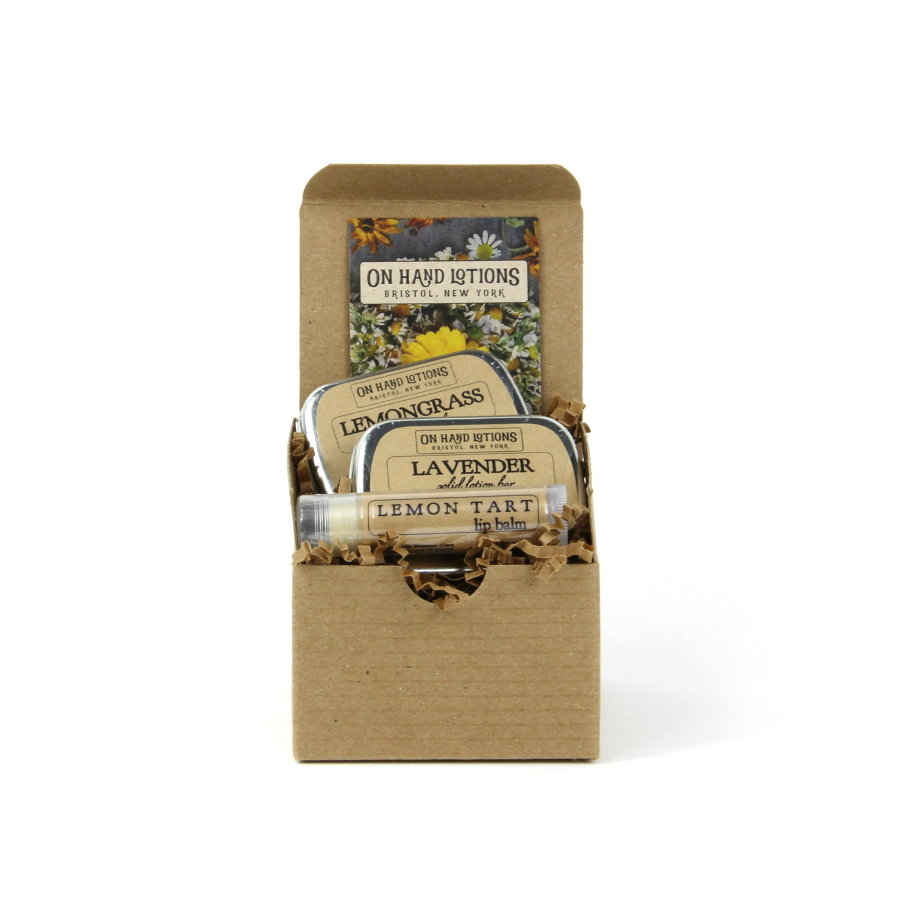 Oh lucky gift recipients! This gift set includes your choice of TWO .5 ounce lotion bars and one .15 ounce lip balm, all neatly tucked away in sweet gift packaging, ready to give.
Our solid lotion bars feel creamy and decadent and are perfect for weathered hands, cracked heels, chapped lips, and rough patches. Each bar comes in a small metal tin perfect for purse, backpack, pocket, or office desk drawer.
---
Lip Balms:
LEMON TART: lemon meringue pie-in-a-tube. The mildly sweet, bright lemon, and vanilla flavors make this the most popular lip balm flavor at On Hand Lotions. Ingredients: beeswax*, coconut oil*, cocoa butter*, sweet almond oil*, stevia extract*, vanilla oleoresin*, lemon essential oil*
VEGAN MINT glides over dry lips with rich, nourishing jojoba oil. Cooling peppermint and sweet stevia round out this fresh-smelling, tasty lip balm. This balm is firmer than the others and makes a good summertime lip balm. Ingredients: candelilla wax*, coconut oil*, cocoa butter*, jojoba oil*, natural shea butter, stevia extract*, peppermint essential oil*
CINNAMON COCOA tastes like hot chocolate with a hint of cinnamon. This balm appears light brown from the organic cocoa powder but is transparent when applied. Ingredients: beeswax*, coconut oil*, cocoa butter*, natural shea butter, cocoa powder*, stevia extract*, vanilla oleoresin*, cinnamon essential oil*
WHITE CHOCOLATE has a chocolate scent with a hint of organic vanilla and light stevia sweetness, kind of like a white chocolate truffle. Ingredients: coconut oil*, cocoa butter*, beeswax*, vanilla oleoresin*, stevia extract*
*organically grown
---
Solid Lotion Bars:

"BE SET FREE" vegan solid lotion has a natural subtle vanilla scent reminiscent of mild white chocolate. The texture is creamy, silky, decadent, and moisturizing. Ingredients: coconut oil*, cocoa butter*, candelilla wax*, natural shea butter, vanilla and/or benzoin oleoresins*
COCOA has a natural light chocolate scent with a hint of organic vanilla, kind of like a white chocolate truffle dusted with cocoa powder. Ingredients: cocoa butter*, coconut oil*, beeswax*, vanilla and/or benzoin oleoresins*
FOUR SPICES features our warming Four Spices blend of essential oils. Ingredients: coconut oil*, cocoa butter*, beeswax*, natural shea butter, clove, lemon, cinnamon, eucalyptus, and rosemary essential oils*
GRAPEFRUIT & GERANIUM brightens with a fresh, uplifting blend of citrus and green floral notes. Ingredients: beeswax*, natural shea butter, coconut oil*, cocoa butter*, pink grapefruit, geranium, and lavender essential oils*
LAVENDER captures the deeply relaxing fragrance of this cherished herb. This bar is scented with organic lavender essential oil. Ingredients: coconut oil*, cocoa butter*, beeswax*, natural shea butter, lavender essential oil*
LEMONGRASS is a silky smooth shea butter lotion bursting with the bright, clean scent of organic lemongrass essential oil. Ingredients: beeswax*, natural shea butter, coconut oil*, cocoa butter*, lemongrass essential oil*
PATCHOULI & CEDAR evokes a mossy path filled with the rich aroma of cedarwood and heady incense. Ingredients: beeswax*, natural shea butter, coconut oil*, cocoa butter*, dark patchouli, cedarwood, and sandalwood essential oils*
WINTER ORANGE has a glossy, smooth shea butter base with the warming, soft scent of organic sweet orange, cinnamon, and clove essential oils. A touch of fir needle essential oil adds a gentle woodsy aroma. Ingredients: beeswax*, natural shea butter, coconut oil*, cocoa butter*, sweet orange, cinnamon, clove, and fir needle essential oils*
LEMON TART blends soft lemon and warm vanilla in a mild, gentle bar. Ingredients: beeswax*, natural shea butter, coconut oil*, cocoa butter*, lemon essential oil*, vanilla oil*

*organically grown
Second Lotion Bar Scent
Be Set Free VEGAN (0) Cocoa (0) Four Spices (0) Grapefruit & Geranium (0) Lavender (0) Lemongrass (0) Patchouli & Cedar (0) Winter Orange (0) Lemon Tart (0)