Free US Shipping on Orders $100 or More!
Mix & Match: Nurture Yourself Gift Box
01957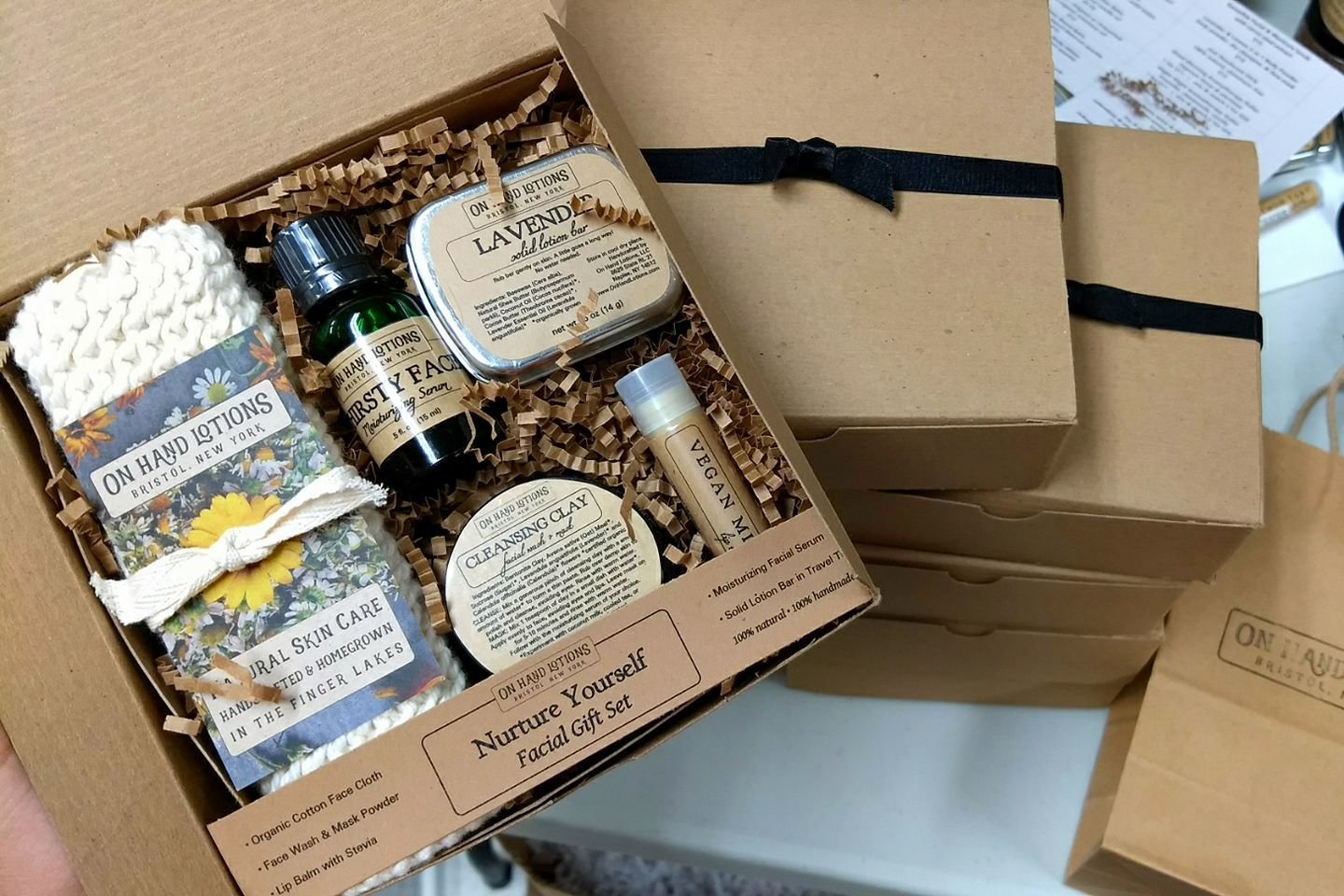 "Nurture yourself. Take care of yourself or you can't take care of anyone else at all."
When my babies were born some of the sweetest gifts we received were cozy handknits: thick blankets, delicate booties, warm sweaters carefully stitched with love. Eyeing my exhausted expression, one honorary grandmother also gave me an impossibly soft knitted face cloth and declared that I needed to nurture myself as well. Inspired by her wise words and and the simple joy of useful handmade luxury, I'm happy to introduce OHL's newest facial gift boxes featuring organic cotton face cloths hand-knitted by Linda, a dear family friend. This nubby cloth is perfectly paired with calendula infused serum, face wash & mask, lip balm, and a lotion bar. Gift set comes in a recycled paperboard gift box and black ribbon bow.
---
What's in the set:
FACE CLOTH
Hand-knitted in a slip stitch pattern that's smooth on one side and nubby on the other. Perfect for removing clay masks or gently steaming your facial oil treatment, then hang by the built-in loop. Organic undyed preshrunk cotton. Machine wash and dry.
---
SERUM
Thirsty Face Facial Moisturizing Serum: beautifully moisturizing serum infused with our homegrown calendula and chamomile flowers. 15 ml green glass bottle
-or-

Thirstier Facial Moisturizing Serum: perfect for extra dry or mature skin, Thirstier is enriched with organic argan oil and frankincense. 15 ml green glass bottle

---
FACE WASH

Cleansing Clay Face Wash & Mask: formulated for oily or combination skin. Made with ground gluten-free oats, bentonite clay, ground homegrown lavender and calendula, superfine sugar. 1 oz. jar

-or-

Bread & Roses Face Wash & Mask: formulated for sensitive or dry skin. Made with locally grown organic wheat, our own roses, and kaolin clay. .65 oz. jar

---
LIP BALM
LEMON TART: lemon meringue pie-in-a-tube. The mildly sweet, bright lemon, and vanilla flavors make this the most popular lip balm flavor at On Hand Lotions. Ingredients: beeswax*, coconut oil*, cocoa butter*, sweet almond oil*, stevia extract*, vanilla oleoresin*, lemon essential oil*
VEGAN MINT glides over dry lips with rich, nourishing jojoba oil. Cooling peppermint and sweet stevia round out this fresh-smelling, tasty lip balm. This balm is firmer than the others and makes a good summertime lip balm. Ingredients: candelilla wax*, coconut oil*, cocoa butter*, jojoba oil*, natural shea butter, stevia extract*, peppermint essential oil*
CINNAMON COCOA tastes like hot chocolate with a hint of cinnamon. This balm appears light brown from the organic cocoa powder but is transparent when applied. Ingredients: beeswax*, coconut oil*, cocoa butter*, natural shea butter, cocoa powder*, stevia extract*, vanilla oleoresin*, cinnamon essential oil*
WHITE CHOCOLATE has a chocolate scent with a hint of organic vanilla and light stevia sweetness, kind of like a white chocolate truffle. Ingredients: coconut oil*, cocoa butter*, beeswax*, vanilla oleoresin*, stevia extract*
*organically grown
"BE SET FREE" vegan solid lotion has a natural subtle vanilla scent reminiscent of mild white chocolate. The texture is creamy, silky, decadent, and moisturizing. Ingredients: coconut oil*, cocoa butter*, candelilla wax*, natural shea butter, vanilla and/or benzoin oleoresins*
COCOA has a natural light chocolate scent with a hint of organic vanilla, kind of like a white chocolate truffle dusted with cocoa powder. Ingredients: cocoa butter*, coconut oil*, beeswax*, vanilla and/or benzoin oleoresins*
FOUR SPICES features our warming Four Spices blend of essential oils. Ingredients: coconut oil*, cocoa butter*, beeswax*, natural shea butter, clove, lemon, cinnamon, eucalyptus, and rosemary essential oils*
GRAPEFRUIT & GERANIUM brightens with a fresh, uplifting blend of citrus and green floral notes. Ingredients: beeswax*, natural shea butter, coconut oil*, cocoa butter*, pink grapefruit, geranium, and lavender essential oils*
LAVENDER captures the deeply relaxing fragrance of this cherished herb. This bar is scented with organic lavender essential oil. Ingredients: coconut oil*, cocoa butter*, beeswax*, natural shea butter, lavender essential oil*
LEMONGRASS is a silky smooth shea butter lotion bursting with the bright, clean scent of organic lemongrass essential oil. Ingredients: beeswax*, natural shea butter, coconut oil*, cocoa butter*, lemongrass essential oil*
PATCHOULI & CEDAR evokes a mossy path filled with the rich aroma of cedarwood and heady incense. Ingredients: beeswax*, natural shea butter, coconut oil*, cocoa butter*, dark patchouli, cedarwood, and sandalwood essential oils*
WINTER ORANGE has a glossy, smooth shea butter base with the warming, soft scent of organic sweet orange, cinnamon, and clove essential oils. A touch of fir needle essential oil adds a gentle woodsy aroma. Ingredients: beeswax*, natural shea butter, coconut oil*, cocoa butter*, sweet orange, cinnamon, clove, and fir needle essential oils*
*organically grown
Serum
Thirsty Face (0) Thirstier (0)
Face Wash
Cleansing Clay (0) Bread & Roses (0)
Lotion Scent
Lavender (0) Cocoa (0) Lemongrass (0) Four Spices (0) Be Set Free Vegan (0) Grapefruit & Geranium (0) Winter Orange (0) Patchouli & Cedar (0) Lemon Tart (0)
Lip Balm Flavor
Vegan Mint (0) Lemon Tart (0) White Chocolate (0) Cinnamon Cocoa (0)