Free US Shipping on Orders $100 or More!
Naples Grapeseed Foot & Hand Scrub - Seasonal Scrub
01941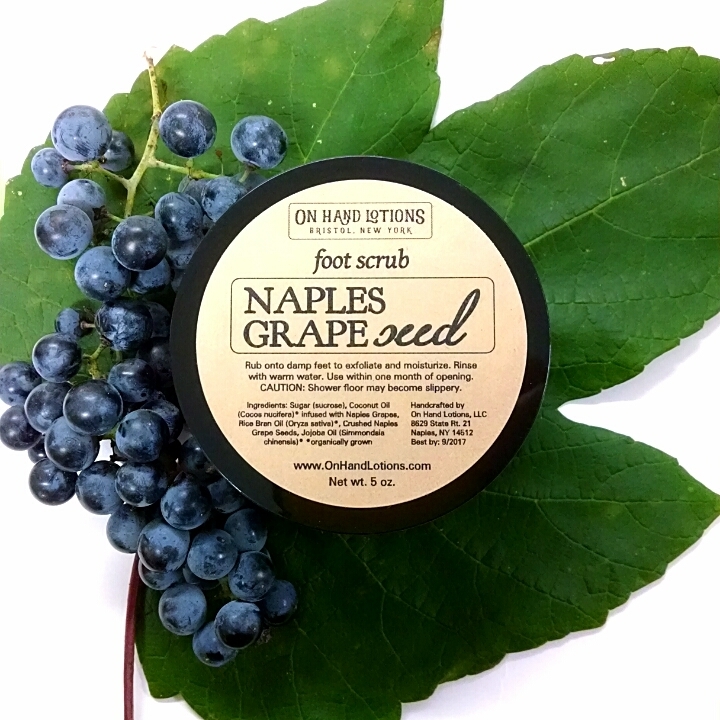 Our shop hometown is Naples, New York. Here, grapes are king (and queen) of the fall season! Naples Grapeseed Foot Scrub (vegan) polishes and smooths and moisturizes tired feet and hands. We wash, dry, and grind whole grape seeds from Naples grapes and blend them with grape-infused oils and sugar for a lightly scented, all natural scrub. Naples Grapeseed Foot Scrub will be available for a limited time!
As always, our products are free of synthetic fragrances, flavorings, colorants, and preservatives.
Current batch made 9/2017.
---
Please use caution when using sugar scrub in the shower, especially with children, as it may cause the floor to become a bit slippery.
---
Ingredients: sugar*, coconut oil* infused with Naples grapes, rice bran oil*, crushed Naples grape seeds, jojoba oil*
*organically grown