Free US Shipping on Orders $100 or More!
THIRSTIER Facial Serum for Dry Skin
00502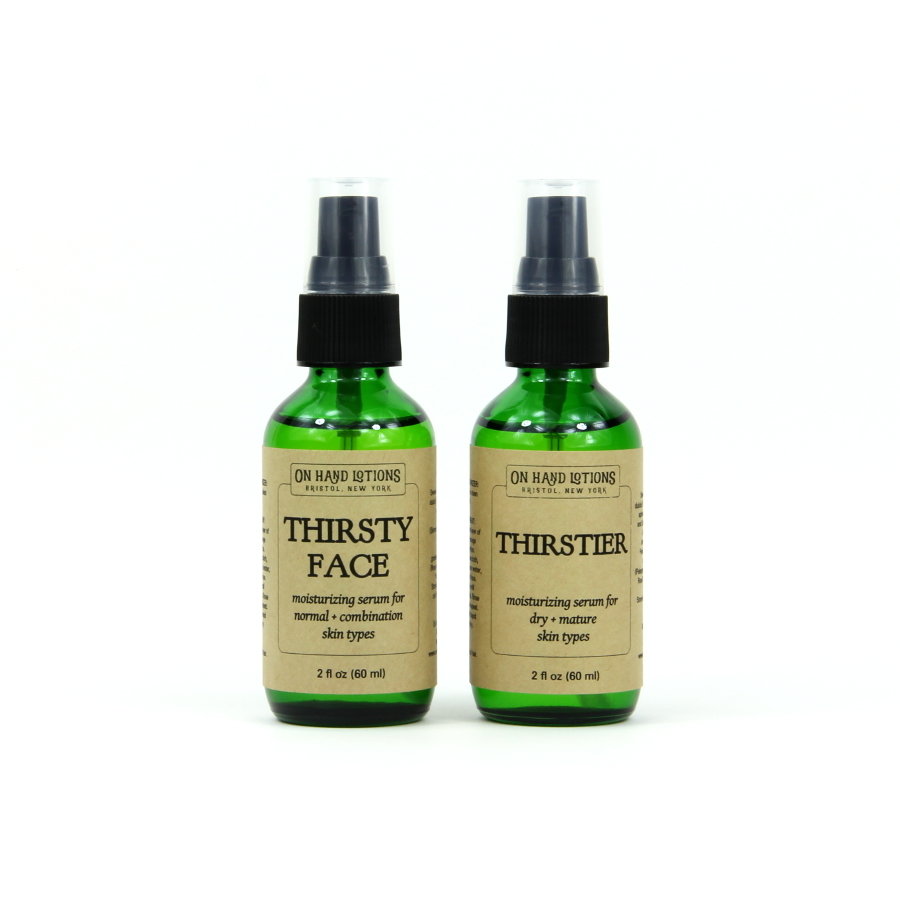 As autumn set in, a few fans of Thirsty Face needed something heavier to compensate for the dry heat indoors and cold air outside. Thirstier is a bit thicker and richer than its predecessor. Testers feel that it still absorbs well but leaves a bit more moisture on the skin. It has the same ingredients as Thirsty Face plus a generous helping of argan oil and a dab of frankincense essential oil. As always, both formulations are made with only organically grown ingredients.
We start by growing calendula and chamomile flowers following organic practices. The flowers are then harvested by hand, dried, and infused into organic oils. We use our homegrown, handcrafted infused oils to create our balms.

This gentle organic oil blend works well as an organic baby oil, body oil, or hair oil. Calendula and chamomile are both calming and nourishing for sensitive skin, jojoba oil lends deep moisture without clogging pores, and rose and geranium oils are known for their healing and soothing properties. Argan oil is deeply healing and moisturizing and frankincense helps rejuvenate aging or stressed skin.
---
Choose a mini bottle with dropper insert (15ml / .5 oz) or regular size bottle with pump cap (60ml / 2 oz). The green glass protects the delicate oils and the new pump cap makes application easy and fast.
To apply, dropper insert: Remove black cap, tip bottle upside down, and tap inner reducer cap onto fingertips to get the serum flowing. Do not shake the bottle.
Both cap styles: Smooth over freshly-washed skin. Don't forget to apply to your neck as well. Cheers to healthy skin!
Ingredients: Prunus dulcis (Sweet Almond) Oil*, Argania spinosa (Argan) Oil*, Calendula* and Chamomile* Flowers, Simmondsia chinensis (Jojoba) Oil*, Pelargonium graveolens (Geranium) Oil*, Boswellia carterii (Frankincense), Rosa damascene (Rose) Oil*
*organically grown
---
Behind the name: A dear friend requested a liquid facial moisturizer. I asked, "Why, is your face thirsty?" We laughed about it and I left it at that. She made the same request, politely and persistently, for several months until I finally had the chance to begin mixing. I tried several formulations but none were quite right. When I finally created something I thought she might like, I excitedly gave her a bottle and said, "Here, this is for your Thirsty Face!" And here we are: an elegant, luxurious, organic moisturizing serum with a silly fun name. Because, well, why not? 🙂
Size
Mini Thirstier 15ml DROPPER CAP (0) Regular Thirstier 60ml PUMP CAP (16)